California DMV Hearing
California Department of Motor Vehicles (DMV) Administrative Hearing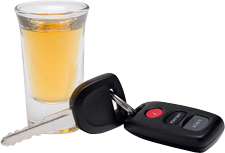 When you are arrested for DUI you will be issued a Form DS-367, which is a notice of an immediate Administrative License Per Se Suspension. This form is also called a pink slip and acts as a temporary 30-day license. At this time, you only have 10 calendar days from the date of your arrest to schedule an administrative license suspension hearing with the California DMV Drivers Safety Office. A California DMV hearing is not required, however, you must request this hearing before the 10 days are up, or you risk an automatic suspension of your license after 30 days from the date of your arrest. If you were arrested for drunk driving in California, the suspension is 4 months. However, if you refused to take a chemical test (breath, blood or urine) following your arrest, the suspension is 1 year. If the date of the DMV hearing is not within the 30 days of your temporary license, you or a qualified California DMV hearing lawyer should request an extension of the 30-day temporary license. Under normal circumstances, the extension will be issued.
A DMV hearing will take place in front of a DMV officer who is not a judge or prosecutor, but will act as both in this situation. It is not recommended that you represent yourself. An experienced DUI defense attorney should represent you at this hearing and because a DMV hearing is not a criminal DUI proceeding, a public defender will not be provided. This is an opportunity for you to present evidence and explain to the DMV officer why your drunk driving license suspension should be revoked.
The questions the DMV officer will want to answer are:
If you submitted to a blood, breath or urine test, or refused/failed to complete a blood, breath or urine test?
Did the arresting officer have probable cause to believe you were driving under the influence of alcohol or drugs?
Was your arrest handled lawfully?
Were you driving a motor vehicle with a 0.08% blood alcohol content or higher?
In addition, if you refused/failed to complete a blood, breath or urine test:
Did you do so after the arresting officer requested that you take one of these chemical tests?
Did the arresting officer inform you that if you refused/failed to complete one of these chemical tests, your driving license would be suspended?
The arresting officer and DMV will be allowed to present evidence to prove their case against you, just as you are allowed to present your case against the DUI license suspension. If the DMV officer rules in your favor, an Order of Set Aside will be issued and your license will be restored. However, if the DMV officer rules against you, a Notification of Findings and Decision will be issued and the license suspension will stand. An appeal against your driver's license suspension can be made to the California Department of Motor Vehicles.
Home > California DMV Hearing